Anti-terrorism detention of 3 people for graffitis
On January 12th, three people have been arrested in Belleville, Paris. They are accused of graffities in solidarity for the revolt in Maghreb: "Algérie – Tunisie / Insurrection", "Vive l'anarchie".
First under arrest in the local police station, the special anti-terrorist brigade of the well known 36 Quai des Orfevres took the responsability of that case, and has transferred them to their offices. The next Friday, they have been put in prison.
One person has been released on January 19th, whereas the two other still wait for their trial inside. Though, she's still under judicial control.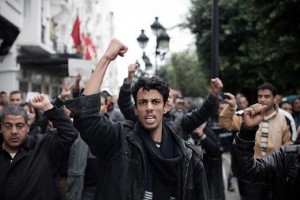 While in Tunisia and Algeria the people revolt, the french government reinforces security on the french territory, making an example of what the consequence of simple solidarity look like. 
But people don't stop expressing their support and calling for concrete solidarity.
On January 18th the Call for the walls Liberation Front has been published; not only to remind how important it is to show up in the streets and cover the white walls, but also to support our friends inside by continuing what they are accused of.
Here's the Call :
http://juralibertaire.over-blog.com/article-appel-du-front-de-liberation-des-murs-65300269.html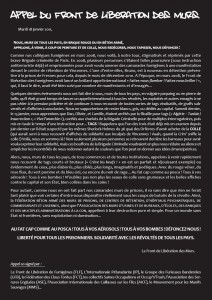 Decorate walls everywhere!Solidarity to Tunisian revolution!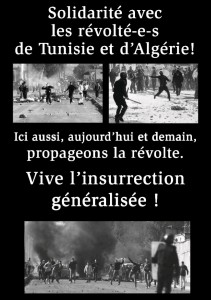 After the arrests, other graffities appeared.In Montreuil, Bagnolet and Paris, on January 16th, one could read in the streets:
-''SOLIDARITE AVEC LES REVOLTES AU MAGRHEB''
-''DICTATURE OU DEMOCRATIE, LE CAPITAL S'ENGRAISSE''
Dictatorship or Democratie, the Capital grows fat!
-''TUNISIE ALGERIE … BOUM !''
-''LE PILLAGE DES RICHES, C'EST LA LUTTE DES CLASSES''
Looting rich people, is class war!
-''AU MAGHREB COMMME AILLEURS, VIVE L'INSURRECTION''
-''DICTATURE OU DEMOCRATIE, A BAS TOUS LES ETATS''
Dictatorship or Democratie, down with all states
-''A BAS TOUS LES POUVOIRS''
Down with all authorities
-''EN FRANCE COMME AU MAGHREB POUVOIR ASSASSIN''
In France as in Maghreb, murderous authorities
-''PROPAGEONS LA REVOLTE !''
Let's spread the revolt!
-''La révolution c'est le renversement d'un régime, mais aussi le bouleversement des rapports sociaux.''
Revolution is to topple a system, but also to disrupt the social relations
In Paris again, on January 17th, graffities were left and a communique followed, expressing the excitement of the authors about the conscientious following work of  police about their graffities.
"Alger-Tunis.Insurrection"
 "Ni dictature. Ni démocratie. A bas
tous les états"
 "La répression et leurs politiciens n'arrêteront pas nos révoltes".