A communique about the arrests in France and the solidarity to the revolt in Maghreb- a definition of Liberty among different revolts.
+ refreshed news from the prisoners and chronology for supporting acts
[Last added January 26th]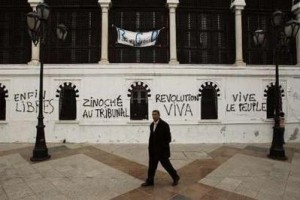 Alger, January 22d
Liberty!
These last weeks, in Algeria and Tunisia, thousands and thousands of individuals went to the to shout their rage and their revolt against the living conditions that have been imposed to them, provoking then tens of dead people among the insurgents. 
Now that the democraty is supposed to have won in Tunis, the same murderer cops are supposed to defend this "liberty", which has been gained at great cost with Ben Ali departure.
But was this really the meaning of the Return to Normality, under the aegis of more democratic chiefs? The meaning of this "Liberty" shout by thousands of rebels?
Liberty, it's about having fought for it, and having affixed on walls "Algerie-Tunisie, Vive l'Insurrection!", "Vive l'Anarchie" (complete freedom, absence of authority) that Camille, Dan and Olivier have been arrested, and then imprisoned on January 14th. The dream they hold in their heart is for sure too big for those who rule this world of pigs. Camille finally went out on January 19th, and is now under house arrest.
On Friday 21st, Francois also has been incarcerated, accused of having put alot of himslef in the struggle for solidarity with some undocumented people; people accused of the arson of the Detention Center of Vincennes, prison for 'foreigners'. It has been burnt down on June 2008, and has returned to the state which should be each prison's- the state of ashes. On of the slogans for this struggle was: Liberty for all, with or without papers!
Indeed, it's not because we are not imprisonned in a jail or a retention center that we are free: from our daily grind that forces us to live through our incarcerating habitation; from cops who prevent us from living, to the shrinks who want us to fit their mould; from teachers who train and humiliate the kids, to all polluted relations governing our lives- no, we aren't free. Even outside.
We could live free, from Paris to Tunis, from Tijuana to Seoul. To grab our own life, without nobody to judge us, to mortify us,to arrest us, to list us, to raise us, to eliminate us.
And if repression hits hard, on different levels, from both sides of the Mediterranean see (jail or real bullets), it should not prevent us from exclaiming:
Liberty for all! All over the world! With or without papers!
Find the PDf flyer on

Lille. Ben Ali- Sarko: We don't forget, we don't forgive!
…………………………………………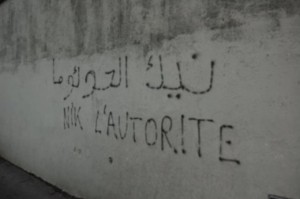 Dijon, 23rd January
January 16th , Montreuil, Bagnolet and Paris:
-''SOLIDARITE AVEC LES REVOLTES AU MAGRHEB''
-''DICTATURE OU DEMOCRATIE, LE CAPITAL S'ENGRAISSE''
Dictatorship or Democratie, the Capital grows fat!
 -''TUNISIE ALGERIE … BOUM !''
 -''LE PILLAGE DES RICHES, C'EST LA LUTTE DES CLASSES''
Looting rich people, is class war!
 -''AU MAGHREB COMMME AILLEURS, VIVE L'INSURRECTION''
-''DICTATURE OU DEMOCRATIE, A BAS TOUS LES ETATS''     
Dictatorship or Democratie, down with all states
 -''A BAS TOUS LES POUVOIRS'' Down with all authorities
 -''EN FRANCE COMME AU MAGHREB POUVOIR ASSASSIN''
In France as in Maghreb, murderous authorities
 -''PROPAGEONS LA REVOLTE !'' Let's spread the revolt!
 -''La révolution c'est le renversement d'un régime, mais aussi le bouleversement des rapports sociaux.''
Revolution is to topple a system, but also to disrupt the social relations
Graffities were left and a communique followed, expressing the excitement of the authors about the conscientious following work of  police about their graffities.
"ALGER- TUNIS. INSURRECTION"
 "NI DICTATURE. NI DEMOCRATIE. A BAS TOUS LES ETATS."
"LA REPRESSION ET LEURS POLITICIENS N ARRETERONT PAS NOTRE REVOLTE".
January 23rd, Rouen: All over the city, tens of graffities.
"LET S SABOTAGE THE DEPORTATION MACHINE"
" AS IN TUNISIA NOTHING TO NEGOTIATE"
"LIBERTY FOR THE PRISONERS!"
"FIRE TO THE PRISONS!"
"[…]And other sweet jokes to the SDAT (anti-terror police team). Solidarity with Bruno, Dan, Camille, Olivier and Francois! Liberty for all!"
January 23rd, PARIS: tens of walls covered.
-ALGERIE TUNISIE INSURRECTION !
-ALGER TUNIS BOUM !
-SABOTONS LA MACHINE A EXPULSER
-LES COMMICOS EN FEU LES KEUFS AU MILIEU
Police stations on fire, cops in the middle! 
-BRULONS TOUTES LES ECOLES
Let's burn all schools!
-LES POLITICIENS ET LA REPRESSION N'ARRETERONT PAS NOS  REVOLTES
-LIBERTE POUR TOU-TE-S
January 23rd, Dijon: Several walls of the university covered with color, following the Front Liberation du Mur call.
-VIVE L'ANARCHIE!
-NIK L'AUTORITE!
-LIBERTE POUR TOUTES!
-A BAS TOUTES LES PRISONS!
-LIBERTE POUR DAN, OLIVIER, FRANCOIS et BRUNO!
January 23rd, Paris, 20th district: About fifty graffities were made, due to the communique, that contains a message for the prisoners.
– "ALGERIE-TUNISIE, VIVE THE HERETICAL REVOLT"
– "FIRE TO THE PRISONS"  (both next to the mosque)
– "LET S BURN ALL THE CHAPELS" (next to a church)
– "ALGERIE TUNISIE VIVE L INSURRECTION"
– "SARKO BEN ALI AND THE OTHERS, WE DONT FORGET WE DONT FORGIVE"
-"NO FATHERLAND, NO BORDER"
– "LIBERTY FOR ALL"
 -"THEFT, LOOTING, SABOTOAGE"
 -"KEEP YOUR CRUMBS, WE WANT THE CASH DRAWER"
-"NO DICTATORSHIP, NO DEMOCRATIE, DEATH TO ANY STATE" 
– "THE ONLY ILLUMINATING CHURCH IS THE BURNING ONE"
-"PRISONS ON FIRE, GUARDS IN THE MIDDLE"
– "SOLIDARITY WITH THE INSURGED OF MAGHREB AND ELSEWHERE"
-"YOU MAY FEED WOLVES, THEY'LL KEEP LOOKING TO THE FOREST"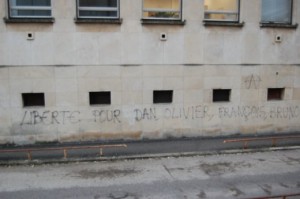 Communique quoted from the info site cettesemaine.free.fr